February 29, 2016
16 "Million Dollar+" properties SOLD since

September 2015

in less than

10 days

in Calgary !!
There were total 51 "Million Dollar+" properties SOLD in less than 30 days and total

160 got SOLD

in last 6 months.
is Calgary housing market really SLOW ??

*DOM => Days on Market
*St => Status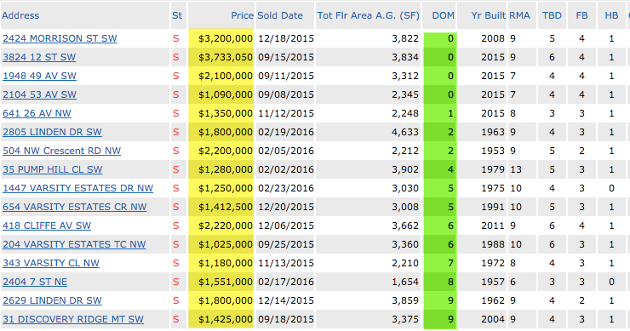 Highlights from 2016 CREB forecast report
The impact of low prices on Calgary's economy overshadowed all resale residential housing activity in 2015 and will continue to do in 2016, With no economic changes expected on the horizon, demand for housing in Calgary will be weak. Total Sales Activity is expected to fall below 2015 levels (18,830) by 2.2 percent to 18,416 units. While new listings levels will increase. Both will keep inventories elevated and place downward pressure on prices - albeit with some divergent activity based on location, price and product type. The annualized benchmark price is expected to decline by 3.44 percent to $438,652

Net migration to Calgary CMA will remain positive in 2016 but subside from recent record highs, as well as typical levels. With fewer job prospects and better opportunities elsewhere in the country, net migration levels are expected to total 11,747 in 2016 compared with 14,951 in 2015

Sign up to get more updates and real facts about Calgary Real Estate Market !!